Whatever.
Thanks to
Uncle Buck over at the EIP
...he made me do this...well sorta...it was just too curious to pass up...
What book are YOU?
Me? Funny you should ask. When i was but a wee wittle wabbit we took a field trip to the big ole movie theatre (now gone) at the Bowman Twin in Tulsa to see this one...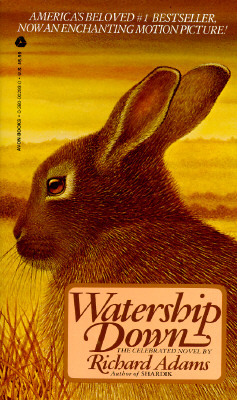 You're Watership Down!

by Richard Adams

Though many think of you as a bit young, even childish, you're
actually incredibly deep and complex. You show people the need to rethink their
assumptions, and confront them on everything from how they think to where they
build their houses. You might be one of the greatest people of all time. You'd
be recognized as such if you weren't always talking about talking rabbits.


Take the Book Quiz
at the Blue Pyramid.
Wanna know what book
YOU ARE
?
Ha! "You might be one of the greatest people of all time." A truer thing may have never been said!
Actually, though i rarely agree with any of these types of analyses... this one for the most part is not far off. Of course, generalities abound and could still apply to just about anyone, still and yet, the last line probably nails it.